A fishing kayak can be a great investment for anyone who loves to fish. They are often designed with storage compartments for all of your fishing gear, as well as a comfortable seat for hours on the water. These boats are perfect for any fisherman who wants to get out on the water and catch some fish.
Which Type of Kayak is Best for Fishing?
There are two main styles of fishing kayaks that you will need to consider before investing: sit-inside and sit-on-top. Honestly speaking, you should not even consider a sit-inside fishing kayak as it will offer insufficient stability for the type of fishing that you want to do.
A sit-inside kayak is not designed for fishing in choppy or rough water. The seat is inside the boat which can make it difficult to recover if you tip over.
A sit-on-top kayak is the best choice because waves or flopping fish will not cause any water to enter the boat. The open design allows easy access to cargo and also provides room for mounting accessories, like a kayak finder, on utility tracks.
If you intend to fish with a child or friend, consider purchasing a sit-on-top tandem fishing model. These tandem models are designed to have interchangeable two and one-seat configurations. It can be ridden back and forth on the water depending on which configuration you find more advantageous at the time.
How Much Should You Spend on a Fishing Kayak?
The price of a fishing kayak ranges from $200 to $3000. Many factors affect the price, such as the material it is made out of, its size, its speed, its stability, how comfortable it is, and how well it tracks.
How much you spend on a fishing kayak largely depends on your budget. If your budget is limited, you might tend to seek the best-rated kayak for sale. Its price remains competitive but still delivers premium performance during your kayak fishing journey.
If you are an occasional kayaker, you should spend less than $500 on a kayak. You can find cheaper models that are made from plastic or fiberglass, which will be more lightweight and easier to transport.
If you are looking for a more durable and stable model, then spend up to $3,000 on a fishing kayak. These models will be heavier, but they will also have better tracking and stability features that will be worth it in the long run.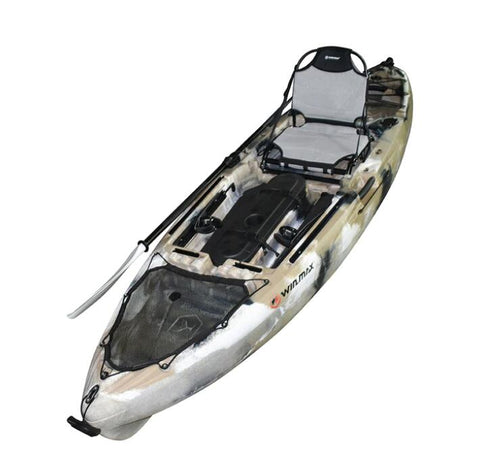 If you love fishing or hunting waterbirds, this is the perfect kayak for you. The Candlelight Fishing Kayak is specifically designed for the Canadian environment. Designed and built with safety in mind, you'll get the opportunity to navigate your way through the beautiful landscapes of this country while having a great time.
The Candlelight Fishing Kayak is one of the most versatile kayaks for fishing, exploring, and going where other boats can't. The kayak is perfect for lakes, rivers, dams, estuaries, and harbors. You can also use it to explore areas that larger boats can't reach, such as coral reefs, kelp beds, and coastal cliffs.
The bow and stern are higher than most kayaks on the market so you can take on choppy water with ease. The lightweight, durable Kevlar-reinforced V-Shaped hull features scupper holes to keep water out, while a center rod holder can accommodate fishing poles up to 9 feet long.
With a durable body and plenty of space for storing items, the Fish River Fishing Kayak is one of the best options for fishermen who like to spend time on the water.
Wrap Up
Many fishing kayaks are available in the market. To find the best-rated fishing kayak for sale, you can compare its features and prices. You must take your time and research which type of fishing kayak will suit your needs best before making a purchase.
The best fishing kayaks are those which are long enough to allow you to fish comfortably and stable enough so that you don't get tipped over by waves.
They are made of durable materials and designed with wide, stable hulls that allow you to use them in the shallowest of water.
Some of the top-rated fishing kayaks include Perception Prodigy Pescador 12', Jackson Cuda 14', and Old Town Predator 13.5'.